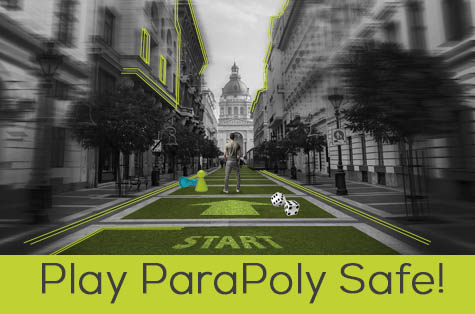 Finally you can get out and do something with friends or family.
At ParaPoly you can combine a walk in the fresh air with an exciting puzzle hunt through the city. The game is contactless and playable at any time. All you need is the game plan, which you can download and print on our homepage, your mobile phone with data volume and your own pen.

During the game, you're only on the road with your own group and have no contact with other players. Also, you don't have to stay indoors or in shops. Your puzzle tour will take you exclusively to public places in the city.
If you can't reach a station during the game due to local regulations, you can simply skip it using the game's help function and continue playing at the next station.

To ensure that your ParaPoly game is always safe for all participants, we kindly ask you to observe the following safety instructions during thegame:
Stick to the default group size of up to 6 people.
Always maintain a sufficient safety distance from other persons.
Stay with your group and avoid large crowds.
Always wear a mouthguard if possible.
Disinfect or wash your hands regularly.
Bring snacks and drinks and avoid restaurants and bars if possible.
Also, always observe the applicable regulations and restrictions in your state or county.
We wish you a lot of fun at ParaPoly.